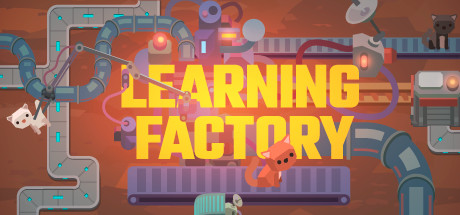 steam免费游戏促销又来咯,《Learning Factory》免费获取时间2020年06月17日 00:30-2020年06月23日 01:00
免费获取地址: https://store.steampowered.com/app/1150090
《Learning Factory》在线人数统计页面地址: https://steamstats.cn/app/1150090
获取更多steam喜加一游戏:https://steamstats.cn/xi
《Learning Factory》获取之后仅限时游玩
游戏介绍: Learning factory is an automation sim in which you will learn how machine learning works and design your own self-sustaining factory.

It's all part of perhaps the most important quest: trying to understand what your cat REALLY wants. Do you want that door opened? Or closed? Understanding such complicated creatures cannot be done without analyzing huge amounts of data and building a neural network. And there's just a place to go for all that.

Welcome to what once was the largest research site of cat behavior in the world: the now-defunct KOTOVOD Learning Factory. It was built to process the insane amount of data about cats and their habits. The project was shut down many years ago and now it's up to you to bring the mighty KOTOVOD back to its former glory


Construct cat-entertaining facilities to collect data about furry creatures

Analyze the data with Machine Learning to find features and create better quality stuff for your pets

Automate and optimize KOTOVOD: you can never make cats too happy, you know

Learn how machine learning works by studying whimsy cats

Add to your wishlist

Out first game about Machine learning
https://store.steampowered.com/app/619150/while_True_learn/
What is machine learning?
Machine learning is a real-world technology that helps us to predict the future. This technology is covered with tons of mysteries theories but how exactly those predictions are made? In this game, you will use real machine learning from the simplest things to extremely complex ones. You will see that there is no dark magic here.
Digital Factory
Everyone can easily imagine a regular factory, but what is going on inside a "digital factory" like Amazon or Google?) How they understand what to offer, how to attract users, how reviews influence their business? We want this tycoon/sim game to help people learn more about digital factories, machine learning tech, and digital marketing.
支持的语言: English